Hope Designs Ranked #29 on "Best Home Staging Blogs on the Planet"!
October 30, 2017
Hope Designs Keeps on adding to their accolades, and this time, they've been ranked as #29 on the list of the "Best Home Staging Blogs on the Planet" as compiled by Feedspot!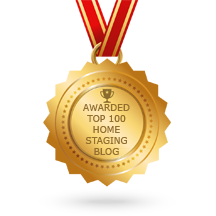 The Toronto home staging and interior decorating company is led by Lori Howard, a seasoned home stager and interior decorator who has plenty of experience and successful projects under her belt. She and her team of experts continue to provide value in the realm of home staging and interior decorating, servicing clients all over Toronto, the GTA, and surrounding communities.
This latest recognition just adds to the ever-growing list of awards, and with good reason. Lori and her team have helped countless homeowners sell their homes for top dollar (many times over asking price) and within an extremely short period of time. As a home stager, that's precisely the goal, and Lori manages to do it every time.
Because of the incredible success and value that Hope Designs continues to provide their clientele and the broader spectrum of homeowners, the company yet again is blessed to be receiving yet another accolade to put under their belt.
Who is Hope Designs?
Hope Designs is led by award-winning designer and home stager Lori Howard who has more than two decades of training and experience in the realm of design. After obtaining her diploma in Interior Decorating, Lori went on to add to her arsenal of education and training by achieving her Home Staging Certification through the Canadian Staging Professionals (CSP) in 2007. Since then, Lori and her team at Hope Designs have gone on to have many success stories.

Among Hope Designs' accolades includes their recognition from Houzz, arguably one of the most influential home improvement websites out there. Lori has been awarded multiple times by Houzz, both for Service and Design! Given Houzz's long-standing reputation as one of the best and most well-respected home improvement sites on the internet, receiving such recognition is certainly an achievement!

Feedspot Declares Hope Designs #29 on "Best Home Staging Blogs on the Planet" List
How exactly did Feedspot come up with their list of the best home staging blogs? All blogs were ranked based on the following criteria:
Google search ranking
Google reputation
Influence and popularity on social media sites like Facebook, Twitter, and Instagram
Consistency and quality of posts
Feedspot's editorial team and expert review
At the Hope Designs blog, viewers will be able to read up on all sorts of goodies related to the home staging and interior designing world. Some blog posts that have been particularly popular among readers include:
There are a plethora of blog posts to choose from to gain some inspiration for your next home improvement project – be sure to check out the blog at Hope Designs, voted #29 on the "Best Home Staging Blogs on the Planet" list!